It's a lovely day outside, and you want to spend it relaxing on your porch, deck, or patio.
The only thing standing in your way is the lack of a wheelchair lift for your deck, which makes it difficult for you to get up and down the steps.
You may have a wheelchair lift for your deck or porch at a reasonable price.
See our guide on the finest types of wheelchair lifts for more information.
Wheelchair Lifts: What You Should Know
A wheelchair lift is a safe platform that is raised and lowered by a strong motor.
These lifts can be used to transport a chair or an occupied wheelchair to and from a vehicle or up and down stairs.
Wheelchair lifts are installed on vans or in homes or companies to enable wheelchair access to upper floors where elevators are not available.
Lifts make it easy to transport a wheelchair from the parking lot to the vehicle, or from the house's front porch to the sidewalk or driveway.
A wheelchair lift is not the same as a stair lift with a fixed seat that only accommodates the rider, not the passenger and wheelchair.
Types of Wheelchair Lifts
Incline Platform Lifts
The most frequent type of wheelchair lift is an inclined platform wheelchair lift.
On the porch or deck, an inclined platform lift can be used.
It is a big platform on which a wheelchair can be propelled.
The platform will be attached to a rail and will follow the gradient made by the stairs.
This outside wheelchair lift is most effective in vast areas.
It may also be folded up when not in use so that it does not take up too much space. This type of wheelchair lift is available for purchase or construction.
Vertical Platform Lifts
These wheelchair lifts are comparable to inclination platforms.
The vertical platform lift may accommodate a wheelchair or even a scooter.
This lift's name says it all. The vertical platform lift lifts in a vertical direction rather than an incline.
These will not follow the steps in the same way that an incline platform lift would.
These small platforms are mostly used for porches and have earned a reputation as the best outdoor wheelchair lift.
It will take up less room than a standard wheelchair ramp because it is a porch lift.
Don't be concerned about the height of your porch; vertical platform lift models can raise up to two stories.
This choice is not only less expensive, but it also takes up significantly less room.
Outdoor Stair Lifts
These wheelchair lifts are useful for more than just wheelchair users.
This choice is suitable for someone who can walk but has difficulty climbing stairs.
They are capable of safely transporting a person from the ground to the porch and vice versa.
It accomplishes this by following the stairwell's direction.
These wheelchair lifts are designed for use outside, which means they can withstand all types of weather.
You may also find lift covers to keep any harm to a minimum.
Purchasing a cover is perfect for individuals who live in a region with a lot of rain or snow days.
Find Wheelchair Lifts Right Now!
If you spend a lot of time on your deck or porch, make it easily accessible to everyone. .
Wheelchair lifts of various varieties might help make your home more accessible.
You can find the best wheelchair lift for you today by continue reading for more information on the many types of wheelchair accessibility.
Top Recommended Wheelchair Lifts
1. Bruno's Enclosure Vertical Platform Model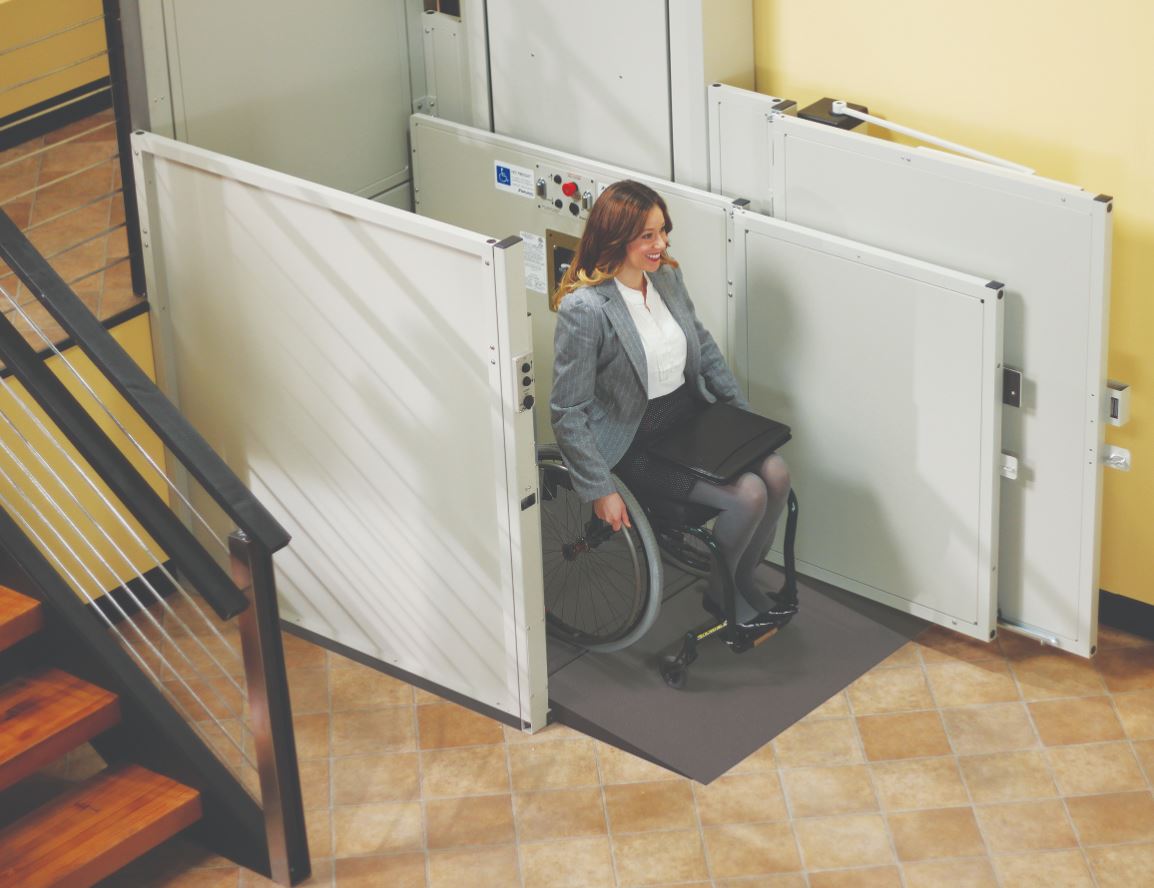 If you're seeking for a wheelchair lift that fulfills all commercial-grade, code compliance standards, whether for your house or for your church, corporation, or store, you should learn about Bruno.
Bruno manufactures commercial vertical platform lifts in accordance with ASME A18.1, Section 2 and can be used in some ANSI A117.1 National Accessibility Guidelines applications.
They also comply with Canadian standards CSA B355.
For further security, the platform controls include an emergency stop button, an audio/visual alert, and a key to activate the lift.
Prices are not listed on the company's website.
2. Affordable Wheelchair Lifts
As a smaller, younger, American-made brand that is gaining popularity, Affordable Wheelchair Lifts stands out for greatest value.
The company is on a mission to develop more affordable choices so that more Americans may access them.
Their vertical platform lift can be used in the garage, inside the house, or entirely outside for porch and patio access.
The equipment can be installed by the typical handyman for roughly $2,495 including delivery, which is a significant benefit because most other manufacturers require a factory-trained installation to install their more difficult units.
Affordable Wheelchair Lifts offers the option of having the device shipped pre-assembled.
This raises the freight cost somewhat, but it could save you hours of frustration while assembling and setting it up in your home.
3. Titan Residential Incline Platform Lift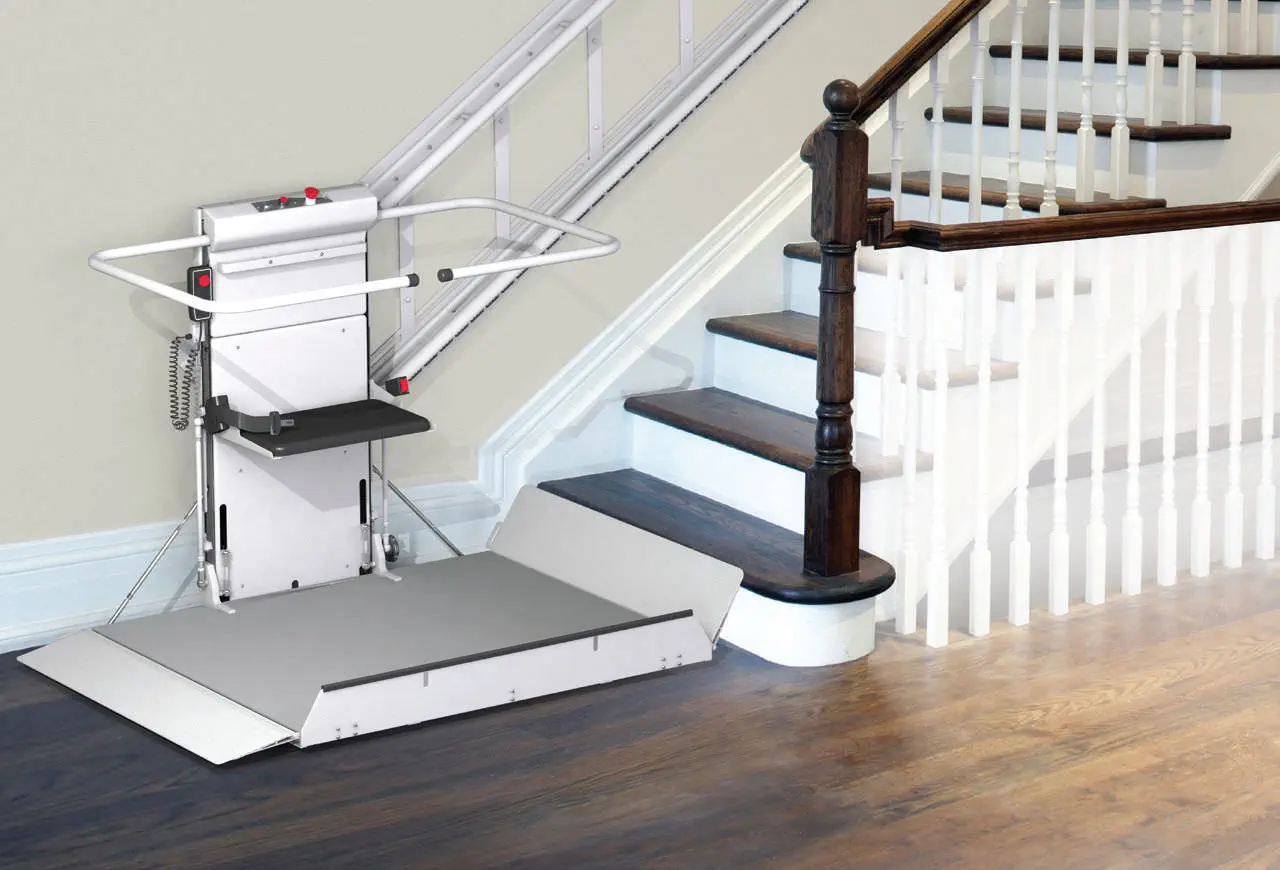 An incline wheelchair lift works in the same way as a stairlift does.
A platform large enough to support the user in their own wheelchair may be a preferable solution for some than a chair affixed to a rail that transports the sitting user over a stairway.
Getting in and out of a chair, for example, can be extremely difficult.
The usage of a platform lift eliminates the need for the user to get in and out of a chair.
AmeriGlide's Titan Residential Incline Platform lift installs on a rail and to the stairs, saving time and money on installation.
When there is no need to attach to the wall, the restoration is less expensive and less invasive in your home.
The equipment costs around $11,495 plus shipping and includes basic installation from AmeriGlide.
It has a 500-pound capacity and is battery-powered to reduce the chance of an electrical outage.
The smallest wheelchair platform necessitates at least a 35-inch wide stairway, yet when parked and folded, the platform only extends 13 inches from the wall.
Our Thoughts
A wheelchair lift can be life-changing for persons who struggle to access specific floors or raised platforms in their home or public environment.
However, it is critical to consider the intended usage of the lift as well as the demands of the wheelchair user to ensure that you are able to source and install a product that will be advantageous.
Variable widths, outside lifts, and crucial safety features are just a few of the things to consider while looking for a wheelchair platform lift.
Frequently Asked Questions
What is the average cost of a wheelchair lift?
The price of a wheelchair lift varies within a very large range.
A basic vertical platform lift including the installation starts at about $5,000.
Adding more features, site construction or an enclosure will add costs.
What is the safest way to transport a power wheelchair?
You simply drive the scooter onto the platform, secure it down via manual or automated solutions, then push a button and it stows away inside your vehicle.
Securing the device is relatively simple and in some cases the lift will do it automatically.
Does insurance cover wheelchair lifts?
You simply drive the scooter onto the platform, secure it down via manual or automated solutions, then push a button and it stows away inside your vehicle.
Securing the device is relatively simple and in some cases the lift will do it automatically.
Does insurance cover wheelchair lifts?
Unfortunately, standard health insurance policies and Medicare will not typically cover the purchase or installation of a stair lift, even with a doctor's order.
If these prices are out of your budget, there may be funding options available to you other than your health insurance policy.
How much does stairlift cost?
A basic, straight stairlift is usually priced in the $2,000 to $5,000 range.
Higher-end models typically average around $5,000 to $7,000.
Curved stairlifts average around $7,500, but the price can go up to $10,000 and higher depending on the complexity of your staircase.