As you age, your bodies become more prone to a variety of unfavorable events, such as excessive weariness, arthritis, disease, and overall deterioration.
All of these factors, and more, can make life more difficult to manage.
Everyday actions, such as going upstairs, are more difficult than they were in our youth, especially if you need a wheelchair.
However, just because you're in a wheelchair doesn't mean you can't enjoy all of the freedom and independence you've had in the past.
A wheelchair platform lift could be the perfect solution for you or a loved one's needs.
With a high-quality platform lift, you can go over steps and platforms that are too high to navigate with a ramp and go about your day without worrying about getting from point A to point B or doing so in a dangerous manner.
Wheelchair lifts might be a great option because they are often less expensive than a home elevator.
Here are our top recommendations.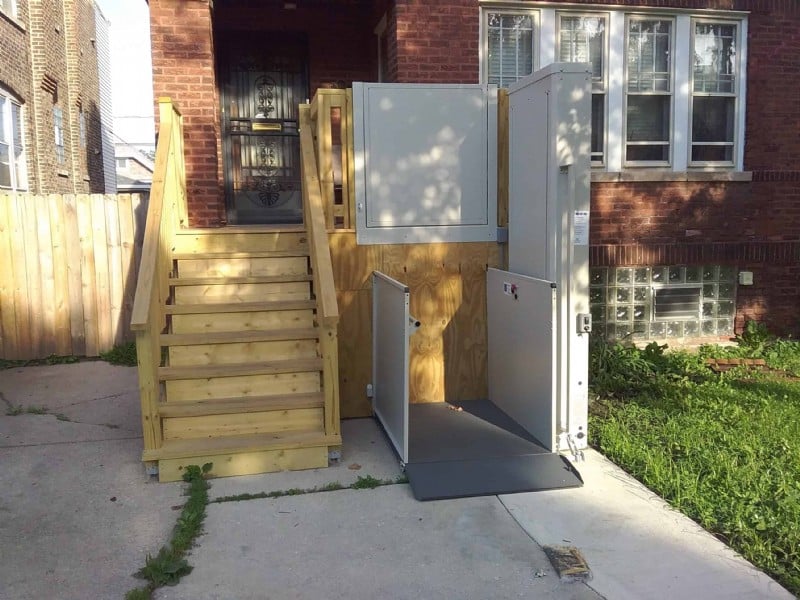 About Wheelchair Lifts
A wheelchair lift is a safe platform that is raised and lowered by a strong motor.
These lifts can be used to transport a chair or an occupied wheelchair to and from a vehicle or up and down stairs.
Wheelchair lifts are installed on vans or in homes or companies to enable wheelchair access to upper floors where elevators are not available.
Lifts make it easy to transport a wheelchair from the parking lot to the vehicle, or from the house's front porch to the sidewalk or driveway.
A wheelchair lift is not the same as a stair lift with a fixed seat that only accommodates the rider, not the passenger and wheelchair.
What to Know About Outdoor Wheelchair Lift
Outdoor wheelchair lifts for persons with disabilities or limited mobility are also known as porch lifts since they allow access to the entry, backyard, and/or front yard of residences and business structures.
A porch lift will enable family members who use a power wheelchair or a wheelchair to enter and exit the house independently.
Top Outdoor Wheelchair Lift
1. Electropedic Wheelchair Elevator Vertical Platform Home Porch Lift
The Electropedic Wheelchair Elevator Vertical Platform Home Porch Lift is an ideal solution for immobile people who live in a house with a porch that they must use every day.
This platform lift is built to be both safe and smooth.
The engine and electrical box are top-mounted, making them ideal for indoor or outdoor use.
This keeps them off the ground and out of risk of sitting in water.
Given the possibility of a technical difficulty or problem with its operation, this design also makes it easier to service.
The straight-through platform is made of non-slip material and has a fixed ramp.
The machine's safety and convenience are enhanced by a grab rail and 42-inch-high guard panels.
An easy-to-use panel switch allows users to control the machine with ease, and an emergency stop button stops the machine if something goes wrong.
Although this elevator is pricey, it assures mobility on your own front porch, allowing you to age in place without incurring additional costs.
2. Bruno 3100 Series Outdoor Vertical Platform Lift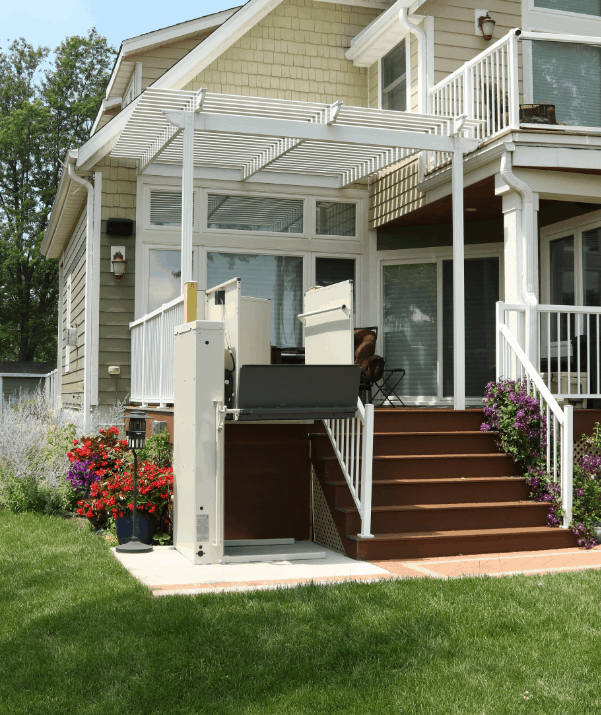 The Bruno 3100 vertical platform lift is a low-cost home accessibility solution that can provide an alternative to installing a long winding ramp for scooter or wheelchair users.
The Bruno VPL-3100 offers the perfect solution for your home accessibility needs.
3. Ez-Access Passport Vertical Platform Lift
While the Ez-Access Passport Vertical Platform Lift is renowned as the lightest home platform lift on the market, it nonetheless holds its own in terms of durability and toughness.
This platform lift has been independently tested and approved for safety and is rated to hold up to 750 pounds while remaining smooth and silent.
The prewired platform tower and gate make installation simple for users, making it easier for caretakers and their loved ones.
Waterproof switches ensure that this lift will endure a long time, and the product design is suitable for a wide range of temperatures.
The battery is highly energy efficient and lasts a long time, resulting in less wear and tear on the motor.
The platform charges readily in conventional outlets, making continuous use simple to maintain.
As a heavy duty lift, seniors who are permanently confined to a wheelchair may consider this option for aging in place.
When it comes to preparing your home for your needs as a senior, things that last longer will be quite beneficial because they will require less upkeep and updating.
4. Bruno 3200 Series Outdoor Vertical Platform Lift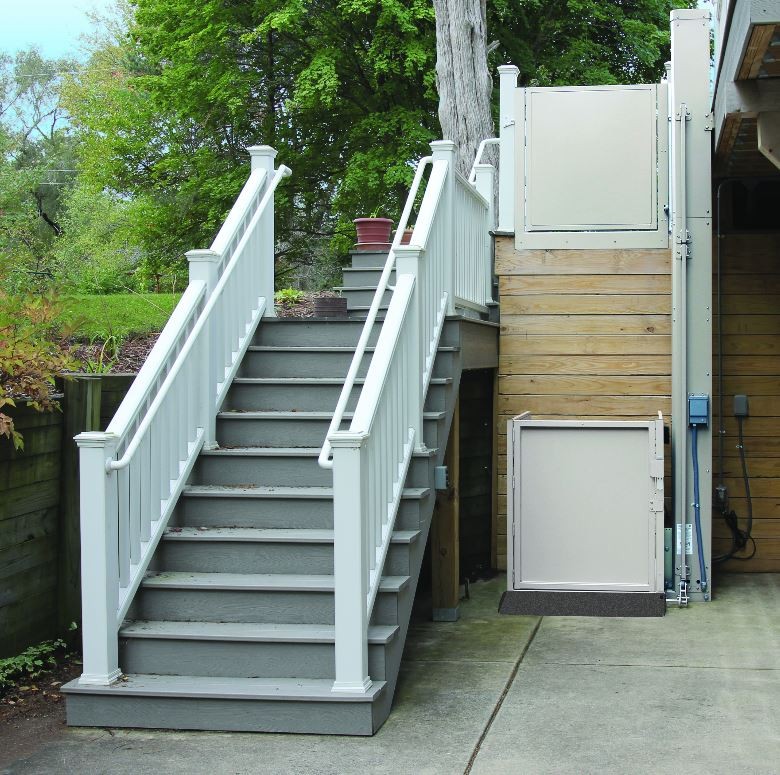 The 3200B series has a lifting height of 14 feet.
This higher VPL is designed solely for residential use and can transfer you down to the basement or up to a deck or elevated porch.
The 3200B has a weight capacity of 750 pounds and can easily accommodate a motorized chair, occupant, and caregiver.
5. Electropedic Wheelchair Elevator Vertical Platform Porch Lift RPL
You or a loved one can save nearly half the price of other platform lifts of its sort by selecting the Electropedic Wheelchair Elevator Platform Porch Lift RPL.
The automatic folding access ramp is simple and quick to use, and the non-skid surface increases safety for your loved one to enter.
With a water-resistant construction, you may use this device both indoors and outdoors with confidence.
The control paddle switch is simple, with no difficult instructions or use, and it contains an emergency stop button in case of an emergency.
Furthermore, sensitive safety sensors on the bottom will automatically halt the lift if something gets in the way.
High guard panels ensure that your loved one does not fall when utilizing this elevator.
An additional grip on the interior provides them with something to hold onto while moving.
6. Savaria M2Lift Outdoor Vertical Platform Lift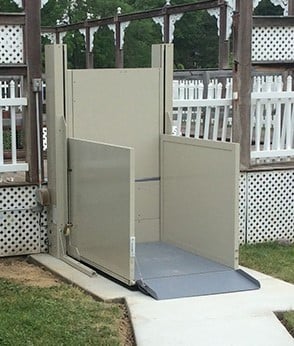 The Savaria M2lift is a vertical platform lift capable of accommodating wheelchairs and other mobility equipment for secure house entrance and egress.
The M2lift was designed primarily for outdoor use, with rust-resistant aluminum components that allow it to appear and work well even in colder areas.
7. Savaria Multilift Outdoor Vertical Platform Lift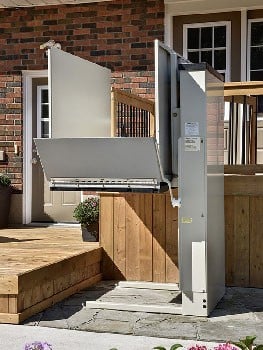 The Savaria Multilift is a vertical platform lift designed for low-rise travel indoors or out. It is a simple way to gain access.
The Multilift is available in a variety of entry/exit combinations and platform sizes to meet your specific requirements.
8. Savaria V-1504 Outdoor Vertical Platform Lift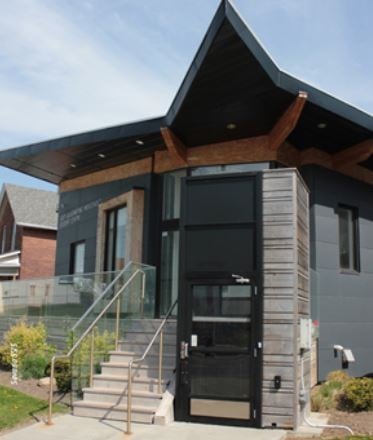 The V-1504 lift is designed to safely transport a wheelchair and a passenger up and down one or more levels.
This SavariaTM lift, which is suitable for public and commercial buildings as well as private houses, has an incredibly versatile design that can be modified and adapted to meet practically any project requirements and aesthetic needs.
Wheelchair Lift Safety Features
Before you buy, be sure the safety features are suitable.
Whether you buy a wheelchair lift designed to transport a person seated in the chair or just the chair itself, wheelchair lift safety equipment is essential.
Tie-downs hold wheelchair lifts in place while not in use, and nonslip surfaces and control lock switches are important safety features.
Wheelchair lifts meant to move an occupied chair have significantly more elaborate safety features.
Models differ, and not all safety features may be accessible on all machines.
Obstacle Detection
Obstacle detection is especially important for vertical platform wheelchair lifts, because the user may be unable to see what is beneath the platform.
This safety element functions similarly to a garage door obstruction sensor in that it will automatically stop the lift if an obstacle is detected.
Safety Railings or Straps
To prevent the wheelchair from moving or slipping off the platform while in motion, safety railings or straps are a must-have safety element on both vertical lift platforms and inclined platforms.
Safety rails and straps are available in a variety of heights and tensile strengths.
The sort of track or other enclosure used with outdoor lifts must be weather-appropriate for the lift location.
In windy places, for example, higher rails with substantial barriers are essential for rider safety and comfort.
Continuous Pressure Controls
Continuous pressure controls need the operator holding down a control button in order to keep the lift moving and ensuring that the operator maintains control of the lift at all times.
In an emergency, pressure controls enable for fast stops.
Emergency Stop Buttons
Emergency stop buttons allow the operator to swiftly halt in mid-motion with a single tap on the button.
For lifts without continuous pressure controls, emergency stop buttons are required.
Backup Battery Systems
Backup battery systems enable lifts to operate in the case of a power outage, preventing riders from becoming stranded on the lift.
Some wheelchair lifts include a manual movement backup rather than a battery backup, however they must be operated with help.
Electro-interlock Gates
While the platform is in motion, electro-interlock gates prevents gates leading to the platform or the platform safety rails from opening.
Weather-safe controls
Weather-resistant controls are required for outdoor systems that include a wheelchair lift that is exposed to the elements.
Weather-safe controls are sealed to protect the unit while ensuring safe operation in all weather situations.
Our Thoughts
Using a wheelchair does not mean your existence as a capable individual is finished, and you should not have to locate a new home simply because your current one includes steps.
The correct platform lift or stairlift can boost your independence and allow you to continue enjoying your favorite lifestyle inside your favorite home.
Frequently Asked Questions
How high can a platform lift go?

Vertical platform lifts work like an elevator to raise a wheelchair and its passenger smoothly and effortlessly straight up and down.
Most rise about 4.5 feet, but some will go as high as 14 feet, enough to reach a second floor.
How much does an outdoor wheelchair lift cost?

The price of a wheelchair lift varies within a very large range.
A basic vertical platform lift including the installation starts at about $5,000.
Adding more features, site construction or an enclosure will add costs.
Does Medicare pay for a wheelchair lift?

It's commonly asked if original Medicare covers the cost of residential wheelchair lifts, and unfortunately, the answer is no.
Medicare supplemental insurance policies, which are often referred to as Medigap policies, help cover copayments and deductibles for items or services that are covered by Medicare.
What is the difference between an elevator and a lift?

The difference between a lift and a home elevator is in both the design and cost. an elevator has a totally enclosed cab and requires a shaft.
A lift typically has an open cab, except for 42" panels on the sides of the platform. lifts are generally more basic and lower cost than elevators.
How much does it cost to put a wheelchair lift in a van?

Wheelchair van conversion prices range from $10,000 to $30,000 depending on each individual need assessment and the type of technology you are seeking, our certified mobility specialist would gladly evaluate and provide a quote to satisfy your needs.